Top Quality Custom Challenge Coins for Sale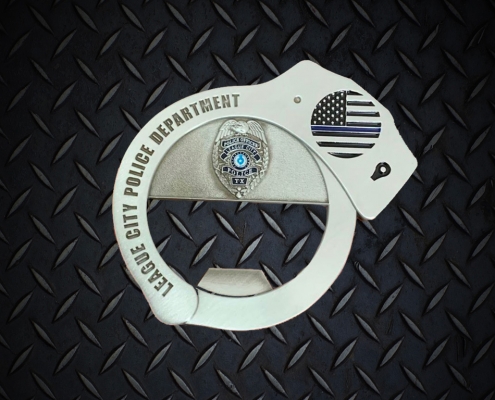 Custom Challenge Coins are a unique and innovative way of recognizing and honoring the efforts of individuals, groups, organizations, and special events around the world.  At Hero Industries, we know you have options when it comes to challenge coins, which is why we are honored to be entrusted with making challenge coins for some of the largest agencies in the world and we try to make the process as simple as possible.
Browse through our gallery of challenge coins and see just a few of the groups that trust us year after year to design and manufacture their coins. From local, State, Federal and International law enforcement agencies to some of America's largest corporations, you are in good hands! When quality is important, trust your challenge coins with us. Our goal is your 100% satisfaction. We also provide custom coins as well.
Challenge Coins History
What started in the Military units over 100 years ago is now used around the world by 1st responders, special forces, police, sheriffs and municipalities as a show of camaraderie, inclusion, and for a job well done. Not to mention custom coins in corporations have found themselves as a highly effective branding tools!  We create our customized challenge coin with intricate symbols and detailed artwork that help individuals feel appreciated for their hard work, services, and efforts. Custom Challenge Coins serve as a great way to make sure your team knows they are valued and appreciated, not to mention, they make INCREDIBLE fundraisers.
The process is simple. Just call or email us today or download one of our challenge coin spec sheets and we can walk you through the process of your custom coins. There is NO charge for proofs and we will help you design a coin you will be proud of. From Fire Departments, Police and Sheriffs departments and every unit they encompass such as K9, Air Support, Motors, Dive teams, and more we would be honored to help you design a lasting legacy coin for your organization.
Here are just a few things that set us apart:
We do NOT charge for die fees, and they are guaranteed for life!
We do not charge for art fees, which means we not only help you design a challenge coin but revisions are also free for the coin design!
You own the artwork when we are done at NO added cost. Who else offers that!
Unlimited colors at NO added cost!
Standard reorders as small as 25 pieces, plus we don't have minimums!
All challenge coins come with a free plastic sleeve with History of Challenge Coins insert.
Challenge coin styles and shapes:
Round
Square
Cut-outs
Irregular shapes
Bottle openers
Key chains.
We make a lot of challenge coins, and there are countless options available – from your standard round coin, cut-outs, irregularly shaped coins, spinners, military coins, badge bottle openers, and sizes that range from 1.5" all the way to 3" (and yes we can make larger sizes as well) If you have seen a challenge coin you like or have an idea you have never seen odds are we can create it!
Most of our coins are die-struck in solid brass, and our engravers will create dies that will show the finest details utilizing the best techniques to get the maximum relief/detail on your coins.  We need a photo print or silkscreen option; we can do that too!  We can match almost any color under the rainbow in either Ebola, soft enamel, glow-in-the-dark, and glitter enamels when it comes to colors.
Custom Challenge Coin Finishes to Select from:
Here are just a few of our Standard and most popular finishes for challenge coins – Shiny Copper, Shiny Gold, Shiny Brass, Shiny Silver, Shiny Black Nickel, Antique Copper, Antique Gold, Antique Brass, Antique Silver, Antique Nickel, Duo-tone plating, and of course epoxy coating. Challenge coins are made out of various metals. If you don't see a finish you want and need help, – ASK, we can do it!
We provide custom-made challenge coins too, for example Firefighter Challenge Coins, Police challenge coins, Military Challenge Coins, etc. These challenge coins are made right here in the United States! from military coins to coins made for employees, we have it all. Contact our customer care team now.
Choose a Edge Detail for your Challenge Coin:
Our Edge coin details are almost as varied as our challenge coins but some of the most popular are: Wave Edge, Petal Edge, Diamond Cut Edge, Double Diamond Cut Edge, Reeded Edge, Rope Edge and Shiny/Squared Edge. We also offer edge text, engraving and sequential numbering either on the face or on the edge of your coin.
If you don't see what you are looking for, just ask and we can do it!
History of Challenge Coins
What started as a memento of serving together in WWI Army flying squadron, the "Challenge Coin" quickly became mandatory after it was used to prove a pilot's identity after being shot down behind enemy lines. The challenge coin he carried with him saved him from incarceration or worse, certain death! After recognizing the military challenge coins, his captors were able to verify his identity. Once he was safely back at his squadron, it became a tradition to always carry your military challenge coins. The pilots often "challenged" each other to produce their military challenge coins. If they couldn't produce custom challenge coins then they had to buy a drink for the challenger. If they could, the challenger bought the round, this came to be known as the Military challenge. Over 100 years later, Challenge Coins are used by all branches of the Federal Government Military, Police, Fire, Fraternal Organization, Air Force and Corporations worldwide. They are used as a reward, award, corporate identifiers, and as morale building tools for heroes who risk their lives protecting others. Members of the US Armed Forces and air force have had a long-standing tradition of carrying military challenge coins that symbolize unit identity and brotherhood. The popularity of the military challenge coin tradition has evolved into more than just a mark of representation for military personnel.
We don't claim to make the most coins, or the cheapest…Just some of the BEST!
Here is our Challenge Coins Gallery